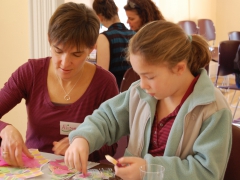 Beneath the Surface - SPRING 2018
Explore... the special moments and rituals that bind us together as individuals and families
Learn... about Jewish rituals that help us give special meaning to our lives
Share... your hopes and dreams for each other and for your relationships
Create... your own personal ritual to celebrate this important moment together as mother and daughter
Beneath the Surface provides an opportunity to enhance families' bat mitzvah experience by enabling mothers and daughters to engage with one another with conversation, art, crafts, and texts in a nurturing and safe environment with opportunities for intimate, creative expression.
Registration Fee: $180.00.
This program is intended as a pre-bat mitzvah experience. Preference is given to families who are within 6-7 months of their bat mitzvah date. Non-Jewish mothers raising Jewish daughters are warmly welcomed, as are single moms, those in same-sex relationships, and all Jewish denominations.
For more information, contact Leeza Negelev, Associate Director of Education, or call 617-244-1836 x203.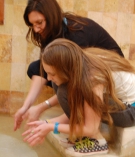 "In the whirlwind that surrounded my daughter's Bat Mitzvah year, it was really lovely to be able to carve out a bit of time that she and I could call our own. A time when we could stop and breathe and focus on the very sacred journey that she was taking. Beneath The Surface gave us pause to remember that becoming a Bat Mitzvah is the beginning of a journey, it is not a destination. It gave us a few punctuated moments in time to talk and laugh, to hear and listen and feel. We were surrounded by other women and girls who were all somewhere near where we were on life's continuum. And that was a beautiful thing." --Ava