The Mayyim Hayyim gallery is open by appointment only.
Call 617-244-1836 x1 to schedule a visit.
Gallery Exhibit January - June 2013
---
Alison Judd is a Boston based painter and printmaker whose abstract work is rooted in ritual and routine. She received her BA in Studio Art and Art History from Brandeis University and her MFA from Massachusetts College of Art. Her work has been exhibited in several group shows and is in private collections. Images of Alison's work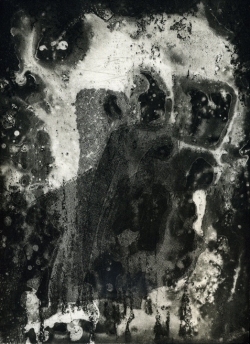 Alison Judd Artist Statement:
My work emerges from within. My intuitive way of working allows me to experience the nature of the materials. The physicality and materiality of paint become important to my process. In my paintings, I try to transform the flat surface of the canvas to yield depth and atmosphere. I attempt to create a tension between the fixed structure and the ephemeral qualities in the painting. Often times a significant form will emerge that might not have been planned. It usually does not have a specific meaning, or stand for anything in particular, but becomes a vehicle through which I am able to express my thoughts and develop my paintings through the actuality of the material.
I think a lot about repetition and ritual as I create my paintings. I try to address those issues by developing and paying attention to the marks I make and to the forms that seem to emerge through these rituals/routines. The rituals within my studio relate to rituals that I experience in my everyday life. (more)
---
Deborah Putnoi is a visual artist, educator and researcher. Putnoi has an M.Ed. from the Harvard Graduate School of Education, a 5th Year Graduate Degree from the School of the Museum of Fine Arts and a B.A./B.F.A. from Tufts University and the School of the Museum of Fine Arts (joint degree program). She has shown her work in solo and group exhibitions nationally. She is represented by the Barbara Gillman Gallery in Miami, FL, the Gail Severn Gallery in Ketchum, ID, the Clark Gallery in the Boston area and Atelier 31 in the Seattle area.
Recently Putnoi co-taught a course at the Harvard Graduate School of Education to graduate students in the Arts in Education program. She has taught in many settings over the past ten years including elementary and secondary schools, universities, and community outreach organizations. Putnoi also worked for four years as a researcher with Howard Gardner at Project Zero working on research projects focusing on community art centers, museums and school learning. Currently Putnoi is developing and implementing a drawing curriculum in Cambridge, MA, for students aged kindergarten through eighth grade, funded by the Massachusetts Cultural Council.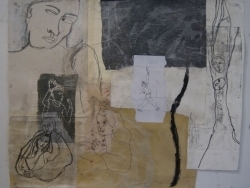 Deborah Putnoi Artist Statement:
Drawing is central to my work as an artist. When pencil touches down on a white surface and a mark emerges I never know where the journey of the line will take me, what I will discover down its path. It is the process, unfolding before my eyes in black and white that continues to fascinate and pull me along to the next mark, the next blind contour, the next drawn discovery. Drawing allows me to see and discover myself and the world and make sense of the world around me. If I stare and let my eyes rest on a face or a seed just sprouting and I let my hand follow the journey my eyes in those moments take I see through and in and around the object being drawn. My eyes with my brain and hand in unison create a reality, an understanding of what is seen and what is known for me in that moment. The twist of a green shoot, the way the nuanced line cuts into space or the soft curve of my babies cheek arcs, drawing can capture it all. (more)